!body>
Savage 10 ML bolt shown with new bolt face installed.
Large Rifle Vari-Flame Kit includes breech plug, bolt face, 10 adapters with required allen wrench. Instructions at bottom of this page.
Savage Large Rifle Vari-Flame Kit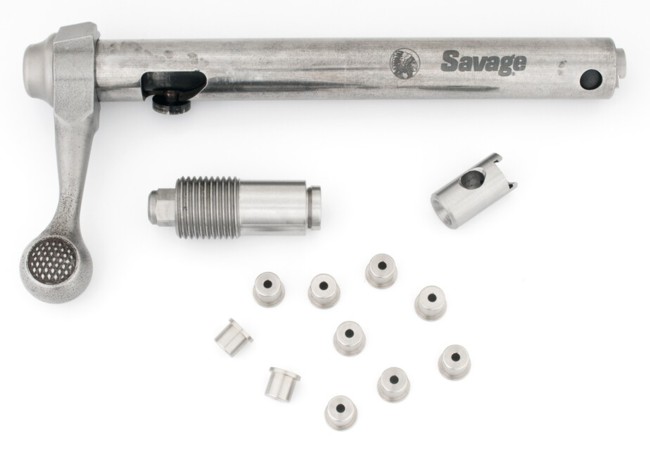 Get rid of the 209 primers in your Savage 10ML.. finally. We have responded to the hundreds of requests from Savage owners to help them eliminate 209 primers, the weak link, from their Savage 10ML muzzleloaders.
Available in our shopping cart the Savage LRVF Kit $129.95
---
"Just a quick note. After continued shooting/testing of my Savage 10ML with your
Vari Flame large rifle primer system, all I can say again is "Brilliant!"
Super clean and smooth performance. Nice work".

Warren Banz
Kaysville, Utah
---


The LRVF Adapters: The LRVF adapters accept Large Rifle primers. The adapter slides into the new bolt face and then into the new breech plug. Large rifle primers are installed into the adapter with any hand priming tool equipped with a .22 Hornet shell holder. Spent primers are easily removed from the adapters with a simple pin punch and mallet. The adapters are machined from #316 stainless steel and designed for a lifetime of use.

The Breech Plug: Our LRVF Savage breech plug is machined from #416 stainless steel. It accepts the Savage 10ML style vent liner. It is headspaced to eliminate primers sticking onto the bolt face upon firing.

The Bolt Face: Our Savage LRVF bolt face is machined from hardened #416 stainless steel and is a perfect fit for our LRVF adapters. It works the same as your current Savage bolt face with the cut being sized correctly for the larger rim of the LRVF adapter.
Full installation instructions follow; installation time is less than 5 minutes.
---
Installing the 10 ML Large Rifle Vari Flame Kit
1. Remove the bolt stop screw in the trigger guard and remove the bolt.
2. Using a 1/4" allen wrench, remove the rear cap of the bolt assembly.
3. Tap the bolt on a hard surface to allow the firing pin to slide back in the bolt.
4. Remove the black 1/4" diameter cross pin and remove the 209 bolt face.
5. Install the LRVF bolt face with the slot in the same position as photo above.
6. Install 1/4" black cross pin such that firing pin can move forward and back.
7. Move the black round cocking indicator to match photo above.
8. Install rear cap with 1/4" allen wrench.
9. When finished, check to make sure your bolt looks the same as photo above.
10. Remove 209 breech plug and replace with LRVF breech plug. Be sure to apply anti-seize to threads of vent liner and breech plug prior to installation.
11. Using reloading press or hand priming tool, install Large Rifle primers of your choice into the LRVF adapters. Remember to use .22 Hornet shell holder in your tool.
12. Use any caliber resizing die or a mallet and 1/16" pin punch to remove spent primers from LRVF adapters. Insert new primers and re-use.
Questions; call me on the toll free 1-877-828-5538
Return to Precision Rifle