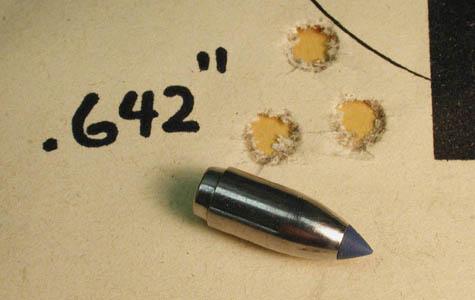 Test group shot July 21st, 2001 - 100 yards
165 gr .357 PTS - 100 Pyrodex P - Knight Super .45 - 2150 fps
BC .290 - 800 ft lb Kinetic Energy remaining at 278 yards.

The prototypes are made and all the data has been calculated. Penetration and expansion testing has begun. Five more weeks of accuracy testing and then we are off to the NWT border for our first test hunt; Manitoba Caribou. If all goes according to plan, our .357 PTS should be available by mid September. Any questions give us a call on the toll free.
September 17th update:
Through out our testing we continued to get the odd deformed sabots when the bullets were pushed beyond about 2100 fps. This was generally the same time that we got unexplained flyers. We tried changing the plastic blend in the sabot and that did not correct the problem. We tried some prototype long petal sabots and that seemed to make things worse.

As long as we kept the velocity under 2000 fps, everything worked fine. But as usual, we wanted to push the envelope and we were not prepared to accept the limitation of the lower velocity. We got our hands on a test gun with a 1:28" twist and the problem disappeared. In the very short time that we had the gun, we did not experience any sabot or flyer problems over the entire velocity range.

CVA is the only gun maker currently producing their .45 with a 1:28" twist and they are in the process of sending us one to use for extensive testing.

That's the good news. The bad news was that I was not prepared to take the .357 PTS on our caribou hunt the way it was throwing flyers. The only solution to salvage the experience was to make some last minute prototype tooling and produce a .40 PTS. We had a shop full of MOA guns in .50 caliber in every twist from 1:48" to 1:26". We knew our blue .40 to .50 sabots would deliver 1 hole accuracy so with less than 6 days to go before the hunt, I fired up the lathe and got started.

We were down to two days by the time I could produce the first bullets. There was no time for extensive testing so I made my best guess as to optimum bullet weight, made fifteen bullets and headed to the range. I grabbed a 1:26" twist Kahnke and 1:28" twist Knight Magnum Disc as I knew both these guns were capable of one ragged hole accuracy. They did not disappoint me with both guns shooting under 1.5" groups with the initial charge of Pyrodex RS.

We stopped along the way on our 500 mile drive to the float plane base to "fine tune" the Kahnke and settled on a charge of 100 grains. Once in camp, I passed on the first night's hunt and stayed back to "fine tune" the Knight Disc. Going up to 120 grains of RS resulted in 3 bullet holes cutting one very small hole as 100 yards. I then moved the target back to 165 yards and proceeded to hit a 1.5" x 2.5" shipping label 3 times in a row. Life in Caribou camp was now wonderful.

Over the next five days we harvested five fine bulls, four of which went over 300 inches. Our furthest shot was my first bull at 214 yards; distance to recovery of 65 yards. Our closest bull 94 yards with zero yards to recovery. We recovered four bullets in the process. The Kahnke was used for two harvests and the Knight was used for three.

Check out the photos below.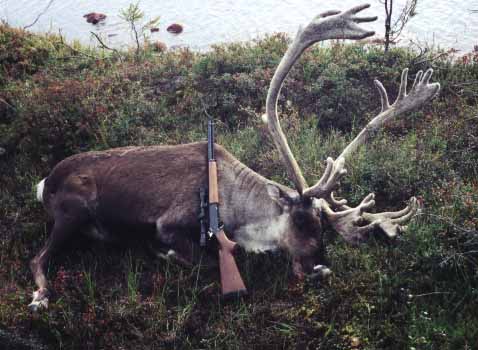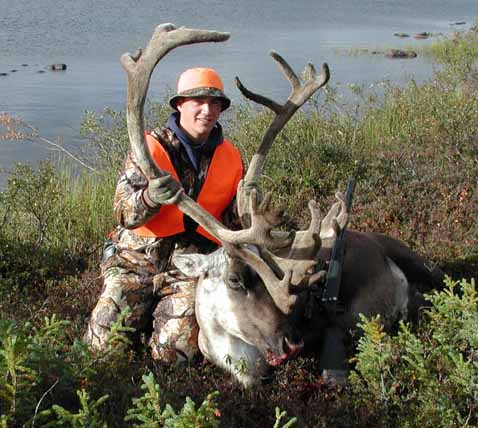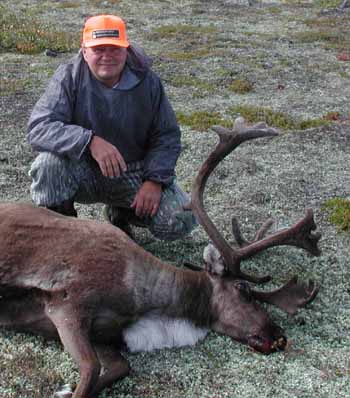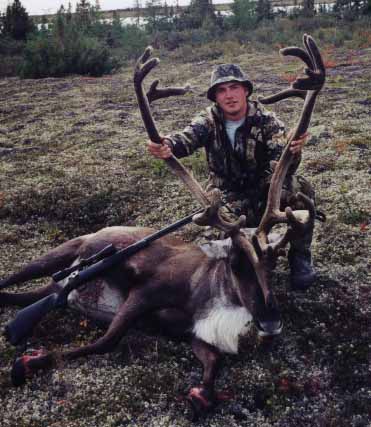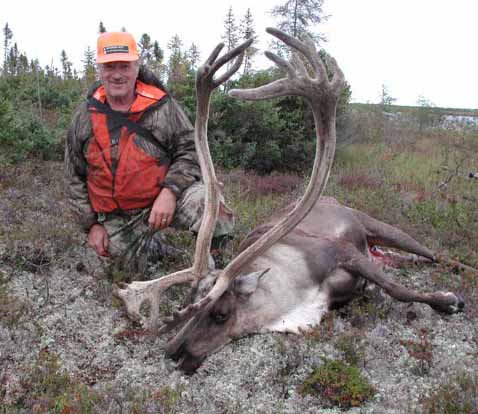 Anyway, back to the .357 PTS. Our new 1:28" CVA should be here by the end of next week. Testing will then begin immediately. Hopefully we will have results to post by the end of September.

October 11th update:
The tool and die maker confirmed today that our production tooling for the new long petal, high pressure .357 to .45 sabots will be ready by early November. We have enough prototype sabots to finish our accuracy testing in the .45 caliber guns that we now have; two with 1:28" twists and one with 1:30" twist. Our plans are to have all three guns in the field when our muzzleloader season opens October 29th. We will follow-up with more details as they become available.

October 19th update:
The .40 PTS testing is complete. The results have been outstanding in all tests. We have decided to make them available through our website for the balance of this season. They are available in .40 caliber complete with tan sabots for .45 caliber guns or blue sabots for .50 caliber guns. Weights are 200 and 240 grains. Both shoot great in all guns that we have tested using 120 to 150 grains of powder.

November 10th update: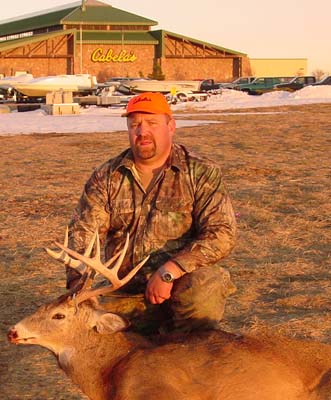 Jim Heeren of Cabela's with our first Buck harvest with 200 PTS .40 - Knight Super .45 - 150 gr Pyrodex
Our PTS style of bullets in .357 and .40 have done such a wonderful job throughout our Caribou and White-tailed deer season that I have decided to add .44 and .45 calibers to the line up. By the end of the 2001, the new PTS line will be available from 175 grain .357 to 340 grains in .45 caliber. This will allow PTS use in guns from .45 caliber to .58 caliber guns.